Custom Car Mirror Socks

Car Mirror Socks are commonly referred to as Car Mirror Flags, and they have recently become a great way to advertise!
Any design can be printed on the material, which means car mirror socks can be used for practically any occasion.
No matter if you need to promote your business, or if you just want to add a bit of flare to your car - Car Mirror Socks are the way to go!
Car Mirror Socks are light and durable, so they pose no risk to the exterior of the car. In fact, they can actually help protect it.
The Flag Makers Car Mirror Socks are available in two different sizes, which are listed below:
Medium Size: 24cm*27cm - This size is best suited for sedans, such as a Buick Lacrosse, a Lucerne, a Regal, a Honda Accord, a Civic, a CRV, an Insight, an Odyssey, an Element, a Hyundai Entourage, a Santa Fe, a Tucson, a Veracruz, a Mazda B Series, a CX-5,6,9 and a Tribute.
Large Size: 25cm*35cm - This size is designed to fit SUV's and trucks, such as a Honda Pilot, a Ridgeline, a Jeep Pariot, a LandRover LR4, and Range Rover.
Car Mirror Socks Front and Back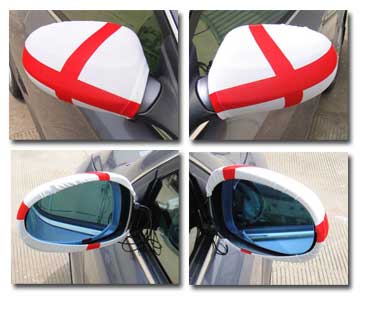 Car Mirror Socks are made of an Elastic Polyester/Flexible Polyester. They will not stretch, rip, or tear and they easily fit on to the vehicle by slipping over the car mirror and securing it by tightening a small cord. It really is that simple!

Custom Printed Car Mirror Socks
We use a sublimation printing technique with PMS colors to create vibrant, high-quality designs. No matter what your design is, it can be printed and custom-fit to dazzle your car.
At The Flag Makers, your custom logos and orders are always welcome!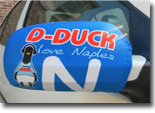 We have designed and printed Car Mirror Socks for all types of events/occasions/styles - including, but not limited to:
Christmas Designed Car Mirror Flags
NBA Designed Car Mirror Flags
NFL Designed Car Mirror Sleeves
NHL Designed Car Mirror Cover
Skull Designed Car Mirror Sock
States & Other Patriotic Side Car Wing Socks

Packaging.
We ensure the best packing possible when we send out your order.
Your order will be packaged in a clear bag with two car mirror socks, and elastic cord, and an instructions sheet.
We can print a logo on a polybag or header card per your requirements, if needed.

The Flag Makers provide top-quality Car Mirror Socks at very competitive prices - Contact us for a quote today!
Flag Information
Coat of Arms Custom flags

Coat of Arms flags capture a family history and are sure to become a treasured possession and a great conversation point for your home, family and friends.

Find out more about our Custom flags Coat of Arms
Custom Car flags

The flag makers will design car flags for all occasions.

Click here for a custom flags car quote!