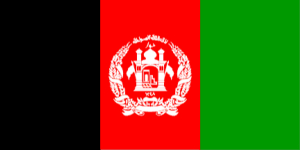 Flags of the World: Afghanistan Flag
The current national Afghanistan flag was adopted by the Islamic Republic of Afghanistan in 2004, but it has a turbulent past. The national flag of Afghanistan has had more changes to its design since the start of the 20th century than any other flag in the world.
Starting in 1709, when Afghanistan was established as an independent nation, the country has had a total of 20 different flag designs. Today, the Afghanistan flag consists of three separate vertical panels of color in the traditional green, red, and black, representing the historical dynasties that once ruled the region. The center of the flag is charged with the national emblem.
The center emblem is especially meaningful to Afghans because it features a mosque with its mihrab facing toward Mecca. Over the top of the emblem the sacred line, "There is no God but Allah and Mohammad is His prophet, and Allah is great" is written.
Using a high-quality flag is essential to honoring the history of Afghanistan. Take a moment to fill out our custom form and we'll create a quality Afghanistan flag that's perfect for parties, social events, sporting events, and more.