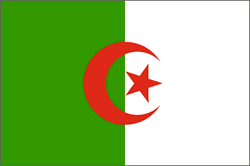 Flags of the World: Algeria Flag
Algeria is the largest country in the Arab world and Africa, when you take total land area into account, so it only makes sense that this country would have an eye-catching flag.
The national flag of Algeria is divided in half with the left side covered in green and the right side covered in white. The crest is very clean and simple. It depicts a red star and crescent moon situated directly in the center of the flag.
Each color on the Algeria flag was chosen for its symbolic meaning. Green stands for the beauty of nature, hope, and joy. White represents peace and honesty. Red represents the blood of those killed fighting for independence in the Algerian War from 1954 to 1962. The star and crescent represent the facets of Islam.
Unlike other flags that have undergone many revisions, the national flag of Algeria was designed only once and adopted in 1962, when Algeria gained their independence from France.
Whether you want to state your affiliation to Algeria loud and proud, or you're looking for a flag that's a little more understated, we can help. Fill out our custom form and one of our representatives will contact you about designing the perfect Algeria flag for any occasion.