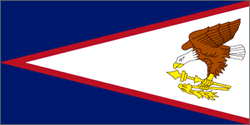 Flags of the World: American Samoa Flag
As an unincorporated territory of the US, it's no surprise that the American Samoa flag would incorporate an Eagle. Although this symbol is important for all Americans, it also holds special meaning for Samoa as well because this animal has always been important among Samoan chiefs.
What makes this flag truly unique is what the eagle is grasping in his claws. A fly whisk, or fue, symbolizes the wisdom of Samoa's traditional chiefs, while the war club, or uatogi, represents the power of the state.
This flag was the first official flag designed and was adopted by the Samoan people on April 24, 1960, the same day that the first constitution of American Samoa went into effect. This day carries even more significance because it also marked the sixtieth anniversary of the first hoisting of the U.S. flag in Samoa.
Interested in ordering a flag of American Samoa? We have a variety of flag sizes, styles, and materials to choose from. Just fill out our custom form and we'll create a high-quality flag just for you. Design a custom flag with The Flag Makers today!