Reasons Why Custom Flags Make Great Promotional Items
Promotional items are a must-have in any advertising campaign. They are effective because they usually involve giving something away for free, and who doesn't love free things! When it doesn't cost a penny, more people are willing to pick up an item, and with the right item, the company's name can become a part of that person's everyday life.
Unfortunately, promotional items have lost some of their effectiveness. With countless items being handed out at trade shows and other events, it's easy for your items to end up in the garbage. Marketing items aren't very effective if they make their way to the landfill!
If you want your items to have a big impact and provide your company with the most bang for its buck, you have to think outside the box. That means using custom made flags instead.
They are an unexpected choice
When you pick up a promotional item at a trade show, what items come to mind? Chances are, your bag will be full of ink pens, magnets, and T-shirts. Although no one can deny that these items are useful, people can only handle so many ink pens and magnets in their lives, and passing out T-shirts in standard sizes means some people will end up with tees that don't fit. Not to mention, when was the last time you actually read the information on the promotional ink pen you received! No one will expect to be handed an advertising flag as a promotional item. You can use that to your advantage.
Passing out custom flags can provide your business with benefits that include:
Increased brand exposure that lasts while ink pens and buttons get tossed in the trash.
Versatile uses with flags that can be used outside, hung on walls, and more.
High-quality construction that can provide your business with a professional appearance.
You have more options than you think
If you haven't spent a lot of time in the world of custom flags, you probably don't realize just how many choices you have. Finding flags to use for promotional purposes means having access to more than just rectangular flags that hang on a pole. Custom flags are such an unexpected promotional item because flag makers make a lot more products than you think! Just a few options you include: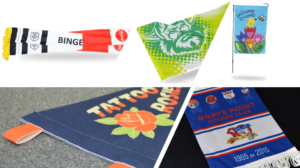 Of course, standard rectangular flags make great handouts too, but if you're looking for ways to save money on your promotional items, order them from a custom flag maker. They have the ability to make flags in smaller sizes, which will save you money.
You can get the same benefits without handing anything out
Advertising flags are effective because they are more likely to be utilized than other marketing items. A custom flag is a lot less likely to end up in the garbage than other items that are a dime a dozen. After all, it's a lot more fun to hang a flag on the wall than it is to add another ink pen to your junk drawer!
However, one of the coolest things about promotional items from a flag maker is the fact that they can be utilized without actually passing them out at all.
Business flags can call attention to your physical location at an outdoor concert, while event tents can be a great way to get noticed at the next trade show. When designed properly, they will leave a lasting impression like other promotional items that are handed out, but you won't have to hand out a thing!
The next time your company or organization plans on attending a trade show or outdoor event, skip the junky items that are likely to end up in the garbage and choose more unexpected items instead. With the ideas on this list, there's sure to be an item that can be made by a professional flag maker that will get your business the attention it deserves.