Everything You Need to Know About Custom Table Covers

Custom table covers don't sound like that big of a deal. After all, you can go to nearly any home store and purchase a table cloth. You can even purchase disposable cloths for cheap that can easily be thrown in the garbage after your event is over. Why bother ordering one online?
A custom table cover from The Flag Makers is unlike any kind of table cloth you've seen before.
They come in many different shapes and styles
If you're imagining a loose piece of cloth that hangs to the floor when you imagine a table cover, you aren't alone. This is the most common type of cover available, but that doesn't mean it's the only type of cover that's available.
Just as business flags come in many different shapes, sizes, and styles, so to do table covers! Just a few of your options include:
They are a great way to market your business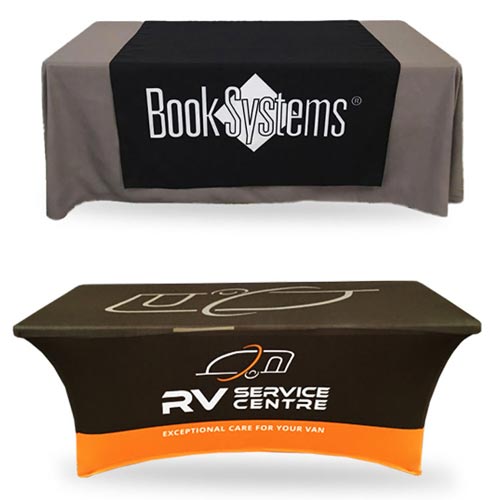 A plain table cloth is better than nothing at all, but it isn't doing anything other than covering your table if it's a solid color. Advertising flags are popular because they are a great way to promote a business outdoors, and custom table covers are popular because they are a great way to promote a business at nearly any event.
Include your business name or logo on the top of the table, on the front of the table cloth, or print it on every side. That way, everyone knows who you are!
They can be used over and over again
Disposable covers are convenient, but they aren't good for the environment, and you can end up spending more on them in the long run. Custom table covers are a good investment.
High-quality covers can be used over and over again. The custom flags and table covers from The Flag Makers are made out of durable materials that can withstand heavy use, and with UV-resistant inks, they will stay vibrant, even in the sun.
Table cloth a little dirty? There's no need to throw it away! Simply throw it in the washing machine and hang it to dry. With wrinkle-resistant fabric, it will look clean and professional straight out of the bag.
With flexible designs and unique construction, you'll find many different reasons to use your custom table cover. For example, our cross-over table covers can feature different designs on each side of the overlapping table cloth. By repositioning each side, you can display a different image!
Interested in learning more about our custom flags? Or maybe you want to learn more about how custom table covers can help you at your next trade show? Allow one of the experts at The Flag Makers to answer your questions and address your concerns by contacting us today!