Creative Uses for Custom Pop-Up A-Frame Banners
Long gone are the days when the only way you could display a flag was on a pole, and the only way you could advertise your business was in the newspaper. Businesses and organizations have a mind-blowing number of ways to market their brand or event, and one of those ways is with pop-up A-frame banners.
Unfortunately, these advertising flags are often underutilized. Instead, many businesses like to use feather flags and street flags to advertise. These are wonderful advertising materials, but if you aren't also using pop up banners, you're really missing out.
Exactly how should you use pop-up A-frame banners? We're glad you asked! We have been making these kinds of flags for years, so we have seen all of the ways our customers like to use them. Here are some of the most creative, and effective, uses for these banners.
Use them at trade shows
Standing out at trade shows is a huge challenge. There are certain things attendees have come to expect, and they're easy to gloss over because they are so overdone. For example, it's easy to walk on by a booth with a table and a table cover. It's not as easy to walk by a booth with a pop-up banner.
These banners are an unexpected way to decorate at trade shows because they command attention. Unlike other items that are designed to take up as little floor space as possible, these banners are designed to make a statement by taking up more space.
Place these custom flags at the entrance of your booth, or place them inside your booth to help direct traffic. With multiple sizes to choose from, you can find a banner that's the right size for your booth.
Advertise with them at conventions
Conventions come with a buzz and excitement that you won't find at any other kind of event. Like trade shows, convention booths can be enhanced with the use of pop-up banners, but they can be used in many other ways if you're the one planning and managing the convention.
Pop-up A-frame banners are a great way to advertise speakers and events that are taking place throughout the day. They can make finding the bathrooms and food stands more convenient, and they're a great way to welcome entrants at the door.
You can also use it as an incentive for other businesses. Place company logos and names on convention banners as a perk for buying tickets or sponsoring the event, and you may find more businesses are interested in helping out.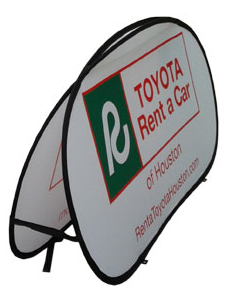 Promote a sale outside your shop
Pop-up banners do not have to be used on such a grand scale and at special events. They are also great at day-to-day advertising because like all other custom flags, they can benefit your business in many ways.
They are double-sided, so you can advertise on the sidewalk outside your shop to people walking and driving by in both directions. They are especially effective at promoting a sale. Because most businesses don't use pop-up banners, you'll find that people want to come in for a closer look.
Worried about your business flags blowing away? Don't be. Heavy items, like sandbags, can be placed on the bottom of the frame to help keep the banner in place.
They're perfect for pop-up shops and clinics
There's no better reason to use a pop-up A-frame banner than at a pop-up shop! These little stores are gaining in popularity with customers because of the excitement they generate, but they're also small. You can increase the size and appearance of your pop-up shop by using large banners that are designed to take up space on the sidewalk. Create a custom message with a word or phrase on each banner positioned in a row to lead everyone to your mobile storefront!
This method of advertising works for all kinds of pop-up stores and services, including mobile clinics. Place pop-up A-frame banners inside businesses to promote a mobile clinic that is in the parking lot.
It doesn't matter if you're looking for event advertising for a trade show or convention, or if you want to use your banners on a day-to-day basis to promote a sale or a mobile store. Pop-up banners are an easy way to get noticed, especially when you create a custom design with The Flag Makers!