Tips for Flying a Flag Outdoors
Flags are a great way to decorate, and they're a great addition to any marketing strategy because they're so easy to use. Simply hang them on flag poles or string bunting up in your shop and you're ready to go!
Or are you?
It's true that custom flags are easy to use, but therein lies the problem. Because they are so easy to use, they are often mistreated.
We know people don't mistreat their flags on purpose. They assume the flag they purchased can be used any way they choose. That's true to some extent, but if you want to get the most out of your flag and make sure it looks great for years to come, you have to know how to fly it properly. That's especially the case if you're using outdoor flags.
---
Choose the right material and construction for your flag
Just because flags are traditionally flown outdoors doesn't mean they are all constructed to be flown outdoors. Flags can be constructed out of many different kinds of material, some of which do better outside than others.
It doesn't matter if you're planning on hanging your flags on outdoor flag poles or you're hanging custom banners for an outdoor event, it is important that you choose flags that are constructed out of sturdy materials.
Polyester is one of the best materials for outdoor use. It is made to stand up to the elements, and with the right printing techniques and inks, this material can keep colors vibrant, even when exposed to the UV rays of the sun.
The construction of your flag matters too! If it will be whipping in the wind, you should choose a flag that is fully finished with reinforced stitching around the hem. Double stitching is even better.
---
Know how to hang it
How you hang your flag matters, as does the hardware that supports your flag when it flies outdoors.
For example, yard flags and garden flags do very well outdoors, but they are made with a sleeve to be hung on a horizontal pole, or a pole that extends away from a building at an angle.
Hanging them on a string or trying to hang one on a vertical pole will make it wear out more quickly.
For traditional rectangular flags that will hang on a pole, eyelets are the best choice, especially when the stitching is reinforced. Rope and toggle fixtures are also an option, but they are best used in ideal weather conditions. They are also a good option for flags that will be hung on a hook instead of a pole.
Hang your flag so that it doesn't beat against the pole by using flag clips, and make sure it doesn't beat against another object, like the side of a building. The more the flag hits and rubs another object, the faster it will wear out.
If you notice that your flag is showing signs of wear by being hung, bring it inside and make the necessary repairs. It's much easier, and more affordable, to reinforce a few lines of stitching as they start to pull apart than it is to order a new flag.
---
Bring your flag indoors during inclement weather
It's true that custom outdoor flags have the ability to fly in all weather conditions, but that doesn't mean you shouldn't consider bringing your flags in when the weather is bad.
Outdoor flags are much better at withstanding wind, rain, snow, and hail than indoor flags, but that doesn't mean they are completely impervious to the elements. Getting stuck in inclement weather will wear your flag down, so it's always recommended to bring it inside if the weather is forecasted to be particularly windy or rainy.
---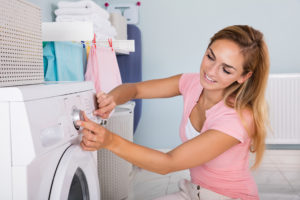 Don't be afraid to wash your flag!
If your flag can withstand the rain, you can bet it can withstand a trip through the washing machine. As a matter of fact, it's recommended for outdoor flags!
Flags that fly outside can quickly become dirty, which can compromise their appearance. A quick spin through the gentle cycle in your washing machine can keep them looking like new.
Just make sure you lay your flag flat to dry before hanging it outside and make sure it's dry before you fold and store it. The extra weight from the water can make your flag heavy, causing it to stretch, and a wet flag will crease when it is folded and stored.
Custom flags come in all shapes and sizes, and with the right care, you can ensure your outdoor flag looks like new for years to come!