The Perfect Flags for Motorcycle Clubs and Events
Bikers are loud and proud! Whether zipping across town alone or driving on the highway in a large group, most bikers would agree that their bikes and their lifestyle become part of who they are. It should come as no surprise that bikers want to display their pride in their day-to-day lives.
One way to do that is with custom flags.
Custom flags are appealing to bikers, no matter what your preferred ride, because designs can be customized from top to bottom by you. Create a one-time design for a special motorcycle event, create a custom sigil for your local bikers club, or personalize flag items to hand out as gifts.
Park of a time-honored biking institution? You can also use an existing design! If you work with a professional flag making company, like The Flag Makers, you can provide your own design, or you can request access to a large database of images that have been used in the past. You just may find the perfect design in our archives!
The design of your flag is just the beginning. Not only can you choose what's printed on your flags, you can also choose the shape, size, and style of your flag.
Decorating an event
If you're part of a motorcycle club or organization, chances are, you've planned an event or two. From small barbeques to cross-country treks, your event can be greatly enhanced by flags.
Motorcycle club banners can be hung at indoor and outdoor events, feather flags are a fun way to decorate along a parade route, while bunting can be strung indoors or out.
Of course, no motorcycle club can go without a tent! They can be designed from top to bottom with your club name, logos, and images. They're perfect for trade show-style events, but they are also great for parades, outdoor reunions, and barbeques.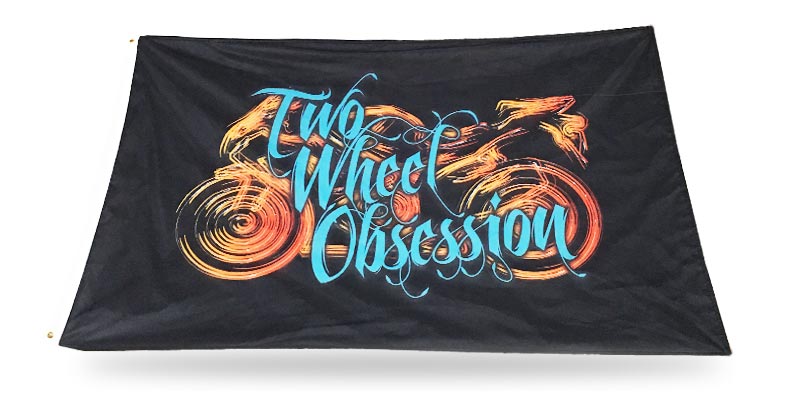 Decorating your bike
Unsurprisingly, the life of a motorcyclist centers around his or her bike. It's a point of pride for every biker. It's kept sparkling clean, it's regularly maintained, and of course, it is decorated.
It's important that your decorations don't detract from the bike itself, which is why flags are so popular. They can easily be taken off or exchanged with other flag designs without damaging your bike, unlike decals and other decorations.
You've got a few different choices too! Hand flags are great for waving at outdoor events, but with a few modifications, they can be secured to the seat of a motorcycle. It isn't uncommon to see motorcycles zooming down the road with an American flag displayed at the rear of the bike on one side of the seat, with a flag of the cyclist's club affiliation on the other side.
Flags that are made for the car can work quite well too. If your motorcycle has an antenna, an antenna flag may be a great option. Mirror socks can also be a fun way to decorate your bike, in addition to providing your mirrors with a little extra protection.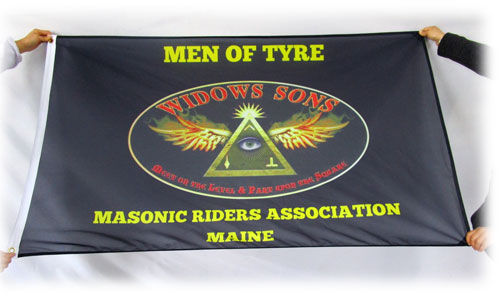 Decorating yourself
Rarely do you see a biker on the road who isn't ready for the ride. Motorcyclists often wear biker-themed T-shirts with custom designs, chaps, and of course, bandanas.
Custom printed bandanas are a great way to tie back your hair, but they can also be worn in other ways. Many bikers tie them around their arms or legs, especially when they are designed for the motorcycle club they belong to.
Bikers won't be found riding in the snow, but that doesn't mean they aren't willing to ride in chilly weather. If you're a three-season biker, consider ordering personalized scarves. They can keep you warm on the road while displaying your club affiliation.
Another great thing about items like these is that they make great gifts. Have dozens printed so you always have a bandana or a scarf on hand every time someone new joins your club. They can be gifted on birthdays and Christmas celebrations, and custom items can be created to celebrate special member and club milestones.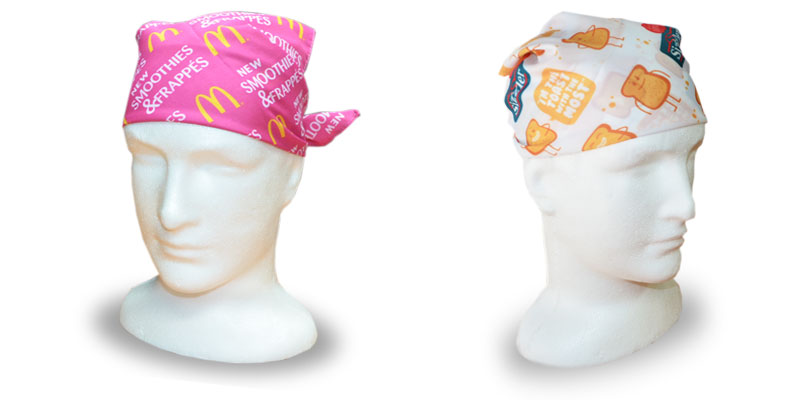 The process of designing a flag isn't complicated either! That's especially the case when you turn to The Flag Makers. You can upload your design and process your order before there is any commitment to buy. Start shopping for your bikers club flag today!