Custom Printed Cape Flags
Dye sublimation - No Minimums - Perfect For Events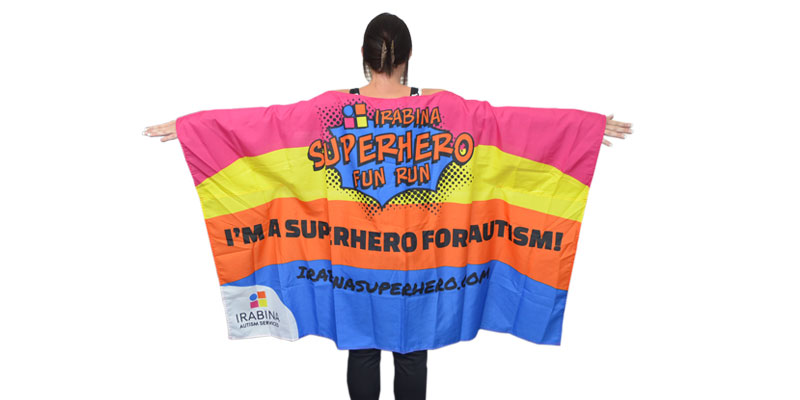 Have Fun at Any Event with Custom Cape Flags
All of the flags on our website have different purposes, but none are as much fun as the custom cape flags from The Flag Makers! Spanning from wrist to wrist and constructed with arm and neck holes, our body flags can be worn at outdoor sporting events, indoor sporting events, music festivals, and more! Design one for your favorite sports team, create a design for a pep rally, or do a little advertising for your business or organization. Every detail of the customization process is up to you!
Cape flags to fit any body
Customizing body flags comes with a unique challenge. Unlike other flags that will fly on a pole or hang on a wall, our cape flags are part flag, and part wearable garment. Like most garments, one size does not fit all.
Fortunately, our capes hang loosely, so there is some leeway. If you're ordering for adults, we recommend ordering capes that are 3 feet by 5 feet. If you're ordering flags for children, we recommend capes that are 2 feet by 3 feet.
If these sizes don't work for you, just let us know! We can make cape flags in nearly any size you can imagine, so you can ensure the flags you order will fit your crew like a glove.
Need Pricing? Click Here!
Detailed body flag construction
A body flag is much more than just a flag with a strap that allows it to be hung around the neck. Not only do you have to get the design right, you have to get the construction right too.
At The Flag Makers, we make it our job to pay attention to all the details. Our body flags include:
Your choice of 68D polyester or 100D polyester.
Your choice of dye sublimation or screen printing.
Flags that are constructed with two sleeves and a Velcro strap.
Heavy-duty stitching around the edge of the flag.
Orders of any amount—there are no minimums!
If you're looking for the most durable cape flags on the market, choose 100D polyester. If you're looking for full-color images, or you want to recreate a detailed photo, we recommend dye sublimation. If you're looking to print a simpler design, we recommend screen printing.
If you aren't sure what kind of details you should choose, just let us know! We can also work with you on a strict budget. We can make professional recommendations, depending on how the flags are going to be used, how they're printed, and we can provide you with alternatives that will help you save money. And of course, we can help you save big on bulk orders!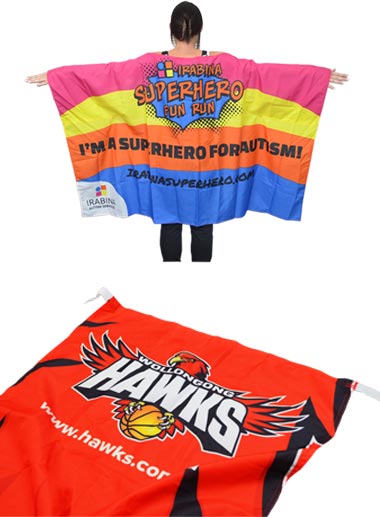 Create an eye-catching design
There are a lot of ways cape flags can be used. Fans use them in the stands to support their favorite teams, marathons use them as handouts, and they're a must at any superhero-themed event or Comicon. No matter where your cape flags are going to be used, it's important that you take the time to create an eye-catching design.
We can help you do just that! You can either provide us with your complete design, or you can provide us with the design elements you want to include. We can arrange the elements of your design in an effective, and visually pleasing way. We have been designing flags for over a decade, so we know how to create the perfect design for any event.
You won't pay extra for this service. Image setup is absolutely free, as is the proof of your flag. Continue tweaking your design until you're completely happy. Only then will we send your cape flags to the printers.
Get A Quote Today!
Frequently Asked Questions
Get answers to the most frequently asked flag questions
Can I order cape flags in other shapes besides rectangles?
Yes, and no. In order for our cape flags to be worn, the top portion of the flag must be rectangular in shape. That way, the flag can drape across the shoulders and all the way down the arms. However, the bottom part of the flag can be customized! Choose a rounded design or a pointed, triangular design. All you have to do is let us know your ideas and we can make them a reality!
How does the design of body flags differ from other flags on your website?
For the most part, our body flags don't differ from any of the other flag products on our website. They use the same printing processes and materials, which includes our state-of-the-art digital printing process and our durable, lightweight 100D polyester material.
The construction of our cape flags is where they differ from our other products. Instead of being constructed with fixtures that allow the flag to hang on a pole or the wall, our body flags are made with sleeves. That way, they can be worn, much the same way you would wear a jacket or a sweater.
Are the body flags wrapped individually when shipped?
Yes! Each cape flag is packaged in its very own clear bag. With no minimum orders, it means you can purchase a personalized cape flag as a gift for a friend or family member.
If you do order in bulk, individually wrapped flags add a special touch to your marketing campaign. Instead of reaching into a box full of flags, tradeshow attendees, sports spectators, and more will feel like they're being given a special gift when their body flag comes individually packaged.
Can I order different designs on my flags?
Absolutely! You can use multiple designs on the same flag, or you can order many different flags with many different designs. It won't cost you more either! We never charge extra for setup fees, which means creating one design costs exactly the same amount as creating multiple designs. Create as many different flag designs as you want and you'll only pay for the flags themselves!
Can I print the same design on a different flag product?
You can use the same design on each and every one of our flag products. As a matter of fact, we recommend it! Matching cape flags to traditional rectangular flags, table flags, and more can create continuity within your marketing campaign.
We will create a vector file from your image and save it as an EPS, AI, or PDF. Then, we'll put it on file. That gives you the option of ordering all of your flags at the same time, or you can contact us at a later date to order a new round of flag products with that image.
Not only will we file your design in our database, we can also provide you with a digital copy of your design! With your own personalized file, you can use your image on a wide variety of materials like business cards, letterheads, and much more!
Can I get discounts if I purchase other types of flags with my body flag order?
We are always looking for ways to help you save at The Flag Makers! That means we will provide you with a discount when you order cape flags in bulk, but we can also help you save on other flags as well.
Mix and match any of the flags on our website and we'll determine the best discount rate. We can also provide you with ordering options, like ordering more or less of certain kinds of flags, to help you save even more!
How long will it take to get a free estimate after I fill out the online form?
Pricing is important. You don't want your body flags to break the bank, and neither do we! That's why we offer fast, accurate estimates. Our operation runs 24 hours a day, so we are able to get back to you within hours, not days.
The more information you provide in our online form, the more accurate your quote will be. Fill out the form any time of the day or night and you can bet we'll get back to you within 24 hours!
How can a business use cape flags to advertise?
There is no limit to the ways you can use our cape flags to advertise! They start as a plain, white piece of fabric and are digitally printed any way you can imagine. You aren't limited to any specific colors, designs, or images. Use branded logos, full-color images, and even photographs!
Businesses find that body flags are a great way to advertise at sporting events, music concerts, and outdoor festivals. Designs often include a sports team or festival logo, with sponsoring companies' logos included in the corners and edges of the design.
Cape flags also make great handouts and gift items! They can be a fun way to get employees pumped at a company event, and they are fun for all ages when passed out at a tradeshow.
Can I put your cape flags in the washing machine?
Unlike our other flags that hang in the air or on the wall, our body flags are meant to be worn. We understand that means they are likely to get more dirty than our other flag products, so we have designed them so they can be placed in the washing machine.
Just make sure you wash your cape flags on the gentle cycle, and never use fabric softener. Hang them up to dry. By following these instructions, you can ensure your flags retain their original, vibrant colors.