Custom Flags
100% Custom Printed - Supreme Strength - Full Color
High-Quality Personalized Flags
100% Satisfaction Guaranteed
When you order custom flags from The Flag Makers, you are ordering directly from the manufacturer. Here are no third-party fees, no markup prices, and no delays in processing. We will work with you from start to finish to ensure that you are completely satisfied with your experience and the finished product!


No minimum required
We happily accept orders of all sizes., Whether you're looking for a single flag or you want to order thousands, we can complete your order.


Durability
Our custom flags are made from tried- and- tested, 100% polyester to ensure maximum durability in all types of weather conditions.


Reinforced double stitching
All of our flags are hemmed on every side and feature a reinforced header to ensure they fly proudly in even the strongest winds.


UV-resistant inks and dyes
Our professional, vibrant ink fully saturates the flag material with the help of a dye sublimation printing process. The result is a flag that features a weather, fade, and abrasion-resistant image.


Single sided or double sided flags
Single sided flags are a great budget option, while double sided flags utilize three separate layers to ensure your image looks the exact same on both sides.


Full color printing at no extra cost
Digital printing and dye sublimation utilize cutting edge technology to create sharp, striking results without any additional costs for multiple colors.
Specializing in Custom Flags
Decades of flag making experience
The Flag Makers has been manufacturing custom flags since 2005. We use the latest printing technology in silk screen and dye sub printing.
Our flag fabricators are among the best in the flag industry. Many of our team members have been making flags for over 20 years. Due to our extensive experience and use of innovative technology, we are proud to say that we supply flags to happy customers all over the world!
We're different than other flag manufacturers because we have:
Highly skilled flag makers
Motivated house designers
Top of the line printing technology
Get Prices Today!
Customizable Flag Parts
Choose from multiple options
Pictured below are the standard parts that come with every flag. However, some parts, like eyelets, can be customized. For example, if you are ordering a flag with a hand wave pole, you should choose a sleeve pocket. Each standard flag will be finished with two rows of stitching, a heavy-duty header, and it will be printed on 200D polyester that is perfect for outdoor use. We also print nonstandard flags too, which means you can customize these features and more.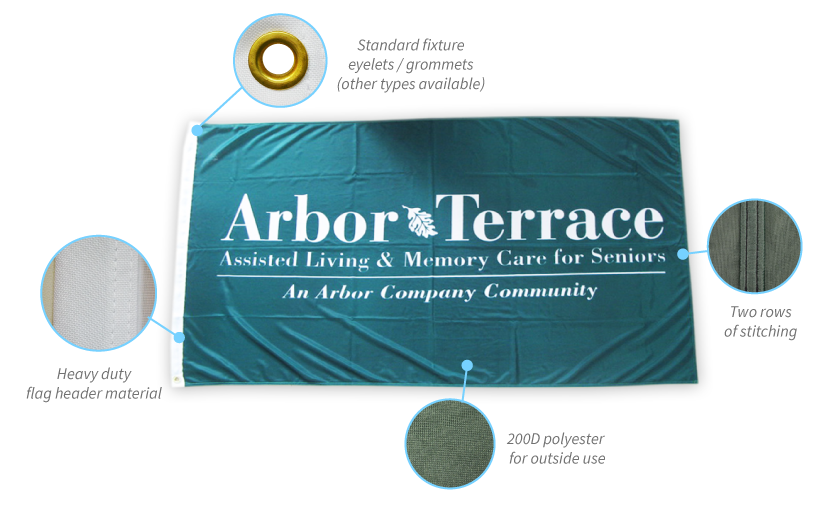 Single Sided Versus Double Sided Flags
Which one should you choose?
Which flag you choose will depend on how you plan to use your flag. Your decision can greatly affect the lifespan and long-term quality of your flag. Continue reading below to learn more about the differences between single sided flags and double sided flags.
Single Sided Flags
A single sided or reverse flag (also known as a one-layer flag) is only printed on one side.
If the flag is screen printed or dye sublimated, the dye will bleed through to the other side of the cloth and the image will be shown in reverse on the back.
The extent to which the image will be visible on the back of the flag depends on the thickness of the material and the printing process you choose.
A single sided flag is the most common choice at The Flag Makers because it costs less than a double sided flag. Single sided flags are also much lighter than double sided flags, which means they will fly better in the wind.
The lifespan of a single sided flag depends on which material you choose and the weather conditions that the flag will be exposed to.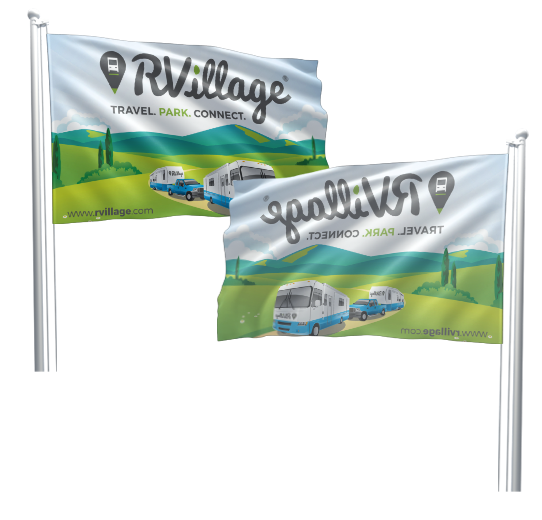 Double Sided Flags
A double sided flag (also referred to as a three-layer flag) is actually two separate flags that are screen printed or dye sublimated and sewn together.
At The Flag Makers, we secure all of our double sided flags with a middle layer of black-out material. This prevents the opposite side of the flag from being visible in bright lighting conditions.
With double sided flags, both sides will read correctly because the dye does not bleed through. Double sided flags are more expensive than single sided flags because more material and dye is needed to produce them.
Please keep in mind that a double sided flag will weigh twice as much as a single sided flag, which can be a huge benefit in high wind areas, but it can cause the flag to sag in average conditions.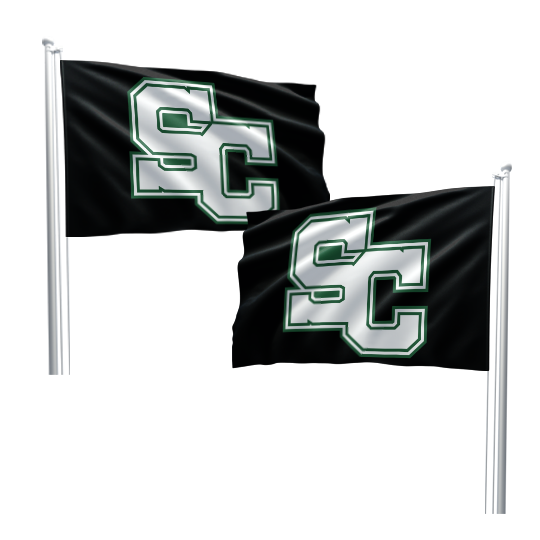 Quick and Easy Display Options
Our custom flags include a wide range of options that make them quick and easy to display. From standard two half-inch grommets to sleeve pockets and rope and toggle fixtures, we have choices that are perfect for poles, clips, hooks and more.
Sharp Colorful Printing
Digital and dye sublimation printing processes use cutting edge technology to create sharp, vibrant, and striking results. These innovative printing technologies and the inks they use provide superior protection from the elements.
Get Prices Today!
Additional Information
Weight:
0.71 lbs. for a standard 3 ft. x 5 ft. outdoor flag that is custom printed
Material Types:
100D polyester is recommended for promotional use
200D polyester can be used in most outdoor situations
500D polyester, which is the highest and toughest quality material available
Flag Construction Details:
100D polyester is a good choice for promotional use because large runs are extremely affordable. 200D polyester is for personal and business use. These flags can also be hung outside on flag poles. 500D woven polyester is the best choice for windy areas and flags that will be exposed to harsher conditions on a regular basis.
Each flag has options for hanging and can be made with a single sided or double sided design.
Printing Methods:
Our flags feature high resolution, digitally printed images that are enhanced with UV protection. For large runs, silk screen printing is an option. We also match PMS colors to ensure logos and images on your flag are true to color.
Sizes:
Custom sizing is available, as are standard sizes that include:
12 in. x 18 in.
16 in. x 14 in.
2 ft. x 3 ft.
3 ft. x 5 ft.
4 ft. x 6 ft.
5 ft. x 8 ft.
6 ft. x 10 ft.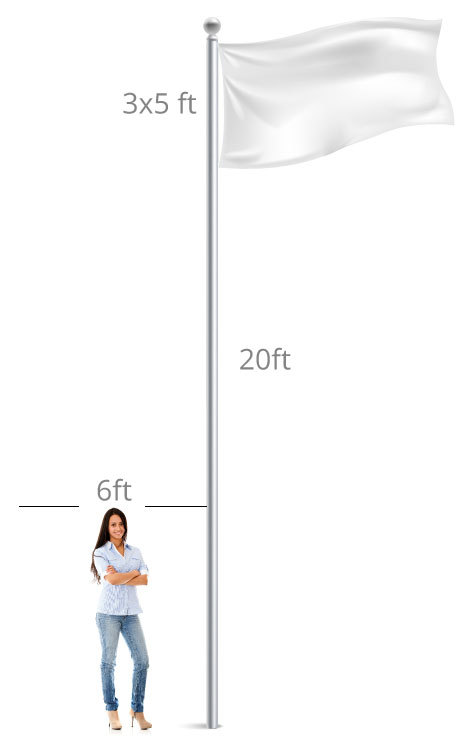 Frequently Asked Questions
Get answers to the most frequently asked flag questions
What can custom flags be used for?
Custom flags are used for personal, business, and promotional use. They can be used outdoors and indoors at sporting events, tradeshows, and much more. They can be used as a display or for marketing purposes. We have a flag that's perfect for everyone!
Polyester or nylon?
Polyester offers greater durability, especially in windy conditions. Polyester is less likely to rip or become pierced than nylon. It is weather resistant, fades less than nylon, and is suitable for prolonged exposure outdoors. Polyester has a matte appearance, while nylon has a bit of sheen. Tell us more about how you'll be using your flag and we can provide you with a professional recommendation.
Do you offer other shapes besides rectangles?
Yes! No matter what shape or size you have in mind, we can make it! From circles to triangle pennant flags and everything in between, our flag makers can make it a reality.
Do you sell flag poles?
We do not sell flag poles. Our focus is on hiring and training highly skilled flag makers and using the best printing machines, inks, and processes to create stunning flag products. Because we're so passionate about flags, we just don't have time for anything else!
Will the sun fade my flag?
Our inks have UV protection, which means they will resist the sun's rays, but they aren't completely UV-proof. Over time, direct sunlight can cause fading. But, without our UV protected inks, you would notice fading much more quickly.
How well does a single sided flag fly?
If you are in a low wind area, a single sided flag is a great choice because it is lightweight and will fly easily. Double sided flags are only recommended in extremely windy areas where single sided flags may become torn or damaged.
Can I see my image on the backside on a single sided flag?
Yes! Most flags feature an 80% bleed through rate. The image will be slightly lighter on the back but will still appear crisp and clear.
How well does a double sided flag fly?
A lot more wind is needed to fly a double sided flag because they are constructed with three layers of material. The benefit is that double sided flags last longer and allow your artwork to read correct on both sides. They are the best choice for windy areas and for promotional use.
Can I choose different images on the front and back?
Yes you can, as long as you choose a double sided flag. There are no extra costs associated with the additional design either! The cost will stay the same whether you use a single design or choose a different design on the front and back.
What are the most common sizes for custom flags?
The standard size of a custom printed flag is 3 ft. x 5ft. This size fits a 20 ft. flag pole perfectly.
Other sizes that are frequently ordered include:
12 in. x 18in.
16in. x 14in.
2 ft. x 3 ft.
4 ft. x 6 ft.
5 ft. x 8 ft.
6 ft. x 10 ft.
What size flags fit other size flag poles?
15 ft. to 20 ft. poles fit a 3×5 ft. flag
25 ft. poles fit a 4×6 ft. flag
30 ft. poles fit a 5×8 ft. flag
35 ft. to 40 ft. poles fit a 6×10 ft. flag
45 ft. poles fit a 8×12 ft. flag
50 ft. to 60 ft. poles fit a 10×15 ft. flag
65 ft. to 75 ft. poles fit a 10×19 foot or 12×18 ft. flag
75 ft. to 100 ft. poles fit a 15×25 ft. flag
105 ft. to 120 ft. poles fit a 20×30 ft. flag
125 ft. to 150 ft. poles fit a 20×38 ft. flag
155 ft. to 200 ft. poles fit a 30×50 ft. flag
200 ft. poles fit a 30×60 ft. flag
Are embroidered flags an option?
We do not offer embroidered flags at this time.
What is the lifespan of a custom flag?
Our flags have been known to last for over 2 years. They have also lasted less than 6 months, depending on the conditions and how they are treated. The average lifespan of one of our custom flags is 12 months. Leaving a flag to fly in severe conditions will cause it to wear out more quickly. Bring your flag inside each evening and in bad weather and you can prolong its lifespan.
How is my artwork printed on my flag?
We use digital and dye sublimation printing which use cutting edge printing technology to create sharp, vibrant, and striking results. These innovative printing techniques also provide more protection when the flag is flown outdoors.
Will my design cover the whole flag?
Yes it will! You can cover every inch of the flag with your custom design.
Does multi-color printing cost more?
No. Printing with 1 color or 100 will cost the same. The best thing about digital printing is that it's easy to print multiple colors at the same time, which means it's more affordable than other printing processes.
Are your flags fire resistant?
They are heat resistant, but they are not designed to be fire resistant.
Is my flag washable?
Yes! Wash your flag with cold water on the light spin cycle.
Can I iron my flag?
Yes! You can iron your flag on low heat.