The Many Uses For College Flags
Flags find themselves at home in many different situations. They can look stately flown in residential neighborhoods, along the streets in a town square, and they are a must for advertising business sales, but nowhere else are they more at home than a college campus.
Custom flags lend themselves well to team spirit and university loyalty, so it's no wonder that they can be found all across campus and at a wide variety of events. Here are just a few ways flags can be used at small colleges and large universities alike.
Traditional rectangular flags
College flags don't have to be anything fancy. Some of the most striking designs are printed on traditional rectangular flags.
Custom flags can feature university mascots, logos, the name of the institution, and much more. Flags can be hung outside the admissions building, rec center, and dorms, while oversized flags can decorate the entrance of sports complexes.
Rectangular flags are especially popular on football fields. Oversized flags look great when flown onto the field ahead of the football team! They can even act as college banners, being waved by hand or by hanging them on the wall.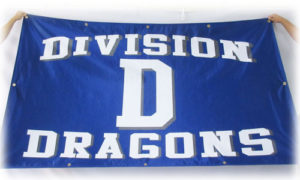 Pennant Flags
Pennant flags have historically been used in a wide variety of situations, but they have found their home at colleges and universities. It's almost a given that every dorm room will be decked out with at least one pennant flag. Universities can raise a lot of money selling these college flags to students and alumni.
Just don't make the mistake of thinking that pennant flags are only made to be hung on the wall. Consider hanging pennants from the ceiling or stringing multiple pennants together before a concert or a party.
It's true that felt pennants should spend their life indoors, but pennants can be made out of sturdier materials too. When made out of polyester, pennant flags can go anywhere traditional flags can go. Consider flying them the same way you would fly traditional rectangular flags, and hang them on strings. Multiple pennants on a string can be a great way to close off a parking area or designate a smaller area within a larger space at an outdoor event.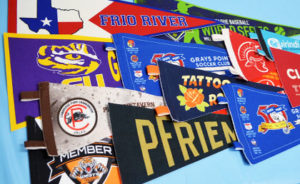 Bannerettes
Flags are meant to be a lot of fun, but with the right design, they can be stately and serious too. That's definitely the case when it comes to bannerettes.
Bannerettes are hung from the top by a string on a sturdy rod, and they feature fringe at the bottom. They are meant to be hung from a hook on a wall and not from a pole. They are most often found in offices and can also be found in dorm rooms.
They make great awards for students as well as faculty. They can announce the winners of a tournament, and they are very stately hung in a trophy cabinet.
While other flags usually just feature logos, bannerettes are more likely to include content. They can list names, a year's worth of events, tournaments won, and more. Flag colors, string colors, and fringe can all be modified to match the colors of your university perfectly.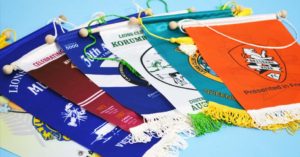 Hand Flags
Nowhere else are hand flags more at home than at a college or university. They are affordable and can be bought in bulk, so they are a great addition to any large gathering. You're most likely to see people in the stands wave them around at a football game, but they are perfect for any sports game. They can be passed out to people in the stands at a soccer game, basketball game, swim meet, and more.
They can be an impactful way to bring people together at other gatherings. Concerts and fundraisers are perfect for passing out hand flags.
You can also think outside the box when it comes to hand flags. Consider using them to decorate the tables at a banquet. They can even be used as seat markers. Guests can then take their hand flags home!
Hand flags can also be added to the university store, along with other items like scarves, bandanas, and cape flags. Creating hand flags with different designs and themes can encourage college students and spectators to spend a few dollars to have a flag with them at the next college-sponsored event.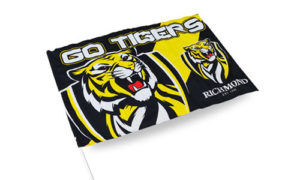 No matter what kind of flag you want to design for your college or university, you should check out the flag designer from The Flag Makers. It's a quick and easy way to design your own flag online and see exactly what it will look like before you place your order.