Custom Table Covers are a Must at Tradeshows and Other Events
Getting ready for a trade show or another event is a lot of work. It requires developing a plan for while you're there, making a list of all the things you'll need, and setting up the space when you get there. You will need multiple boxes that need to get packed, unpacked, and then packed again when the event is over.
It may seem like a good idea to minimize what you bring. The less you bring, the fewer items you can accidentally forget, and the easier it will be to set up and tear down your trade show booth.
This strategy is effective up to a certain point. Although you should always look for ways to streamline the preparation of your next event, you can't skimp where it really counts. One of the items you have to bring to your next trade show is a custom table cover.
Why table covers are so essential
Custom table covers take up space in the boxes you're bringing to your next trade show. Using one also requires some preparation, as the tables at different events are different shapes and sizes. It may seem easier to forgo the table cover all together, but that would be a big mistake.
Custom tablecloths are the quickest and easiest way to dress up your booth. Trade show tables can be ugly, dirty, and the opposite of inviting. By covering your tables, you can create a clean surface for business cards, brochures, and more.
Table covers can also make your trade show booth look more professional. Instead of piling all those empty boxes under an undressed table where they can be seen or taking them back and forth to your car, they can be stored under a table that is covered by a tablecloth. It's also a great way to hide boxes of giveaways and prizes that will be handed out throughout the day.
Logo table covers are a great way to get attention at trade shows because they provide you with a blank canvas for any design. You can keep things simple with your logo or add a picture of a mascot, your business name, or contact information. It provides a great way to catch the attention of passersby as they walk by your booth. The same design can also be printed on other custom flag products so all of your promotional materials match.
Types of table covers
Designing a flag can be a lot of fun when it comes to choosing the images and colors you're going to use, but it would be all for nothing if you design custom table covers that don't fit the tables at your next event.
Loose table throws are the most common option, but they aren't the only option you have. There are a few different styles you can choose from:
Convertible tables throws can easily be used with both six and eight-foot tables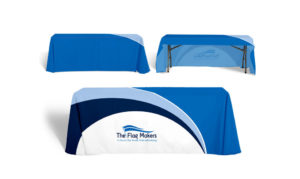 Table runners are a budget-friendly option that can be used with plain tablecloths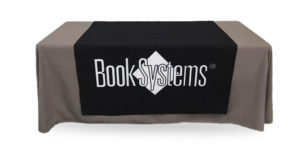 Loose table throws are an easy and fast way to dress up rectangular tables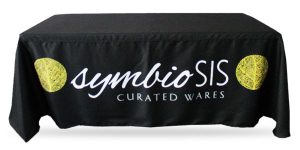 Fitted table covers provide a more polished look with sharp lines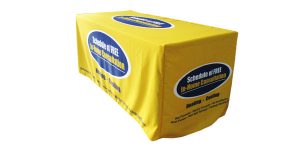 Stretch table covers are perfect for a wide variety of tables, especially during outdoor events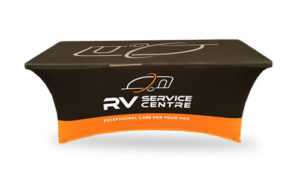 Six and eight-foot tables come with the most options, but there are also options for round tables.
Types of events that are perfect for table covers
Custom tablecloths are right at home at any trade show. They can be used in any booth, regardless of the industry or what you plan to display in your booth. Just don't make the mistake of thinking that table covers are only effective at trade shows.
They are great at a variety of events!
Table covers are perfect for any indoor event. From comic-con events to concerts and even weddings, a custom tablecloth is a great way to make your tables look more stylish and professional.
When you choose a cover that is made out of high-quality materials, you'll be able to use it outside too. Table covers are perfect for small vendors who set up at farmer's markets, as well as restaurants that will be serving food at a carnival.
Designing your own custom table covers isn't hard either! The Flag Makers makes it easy for you to choose the product you want and send us your image. We'll then send you a free proof. Once approved, your new tablecloth can be sent to you in as little as four days!