Custom Military Flags That Are Perfect for Every Veteran
There is no shortage of flag designs. Every country has its own flag, US states have their own designs, and many families display their family crest proudly on a flag. If you're a current or previous member of the military, you know each branch has its own design too!
It doesn't matter if you are currently serving or you're a veteran, we're willing to bet you're proud of your service. Here at the Flag Makers, we're thankful that there are so many dedicated men and women who give their service to our country freely, so we make sure that we have high-quality, accurate military flags and designs on file. The question is, what kind of flag should you order?
Fly an outdoor flag proudly
The simplest and easiest way to display your military affiliation proudly is to do it with a traditional rectangular flag. Standard flag sizes can be displayed outdoors or indoors, and they look especially striking when paired with other military flags. They are a popular option with families that have a long, proud history of serving multiple branches of the military.
The custom made flags that are available at The Flag Makers include:
Army flags
Marine flags
Navy flags
Air force flags
Coast Guard Flags
The history of the United States has included many different designs for many different regiments, calvaries, and more. Whether your design is from the past or the present, it can be printed on a flag. You even have the option of printing foreign designs! No matter what design you choose, you can trust that it will look great on any flag pole.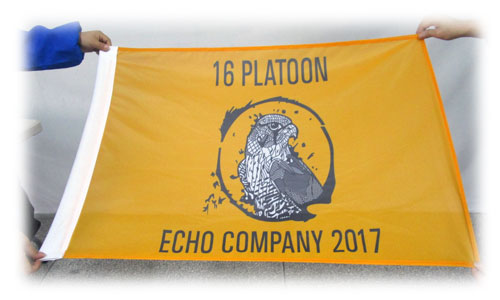 Take your pride on the road with an antenna flag
Rectangular flags are a formal, traditional way to demonstrate your affiliation with various branches of the military, but you can demonstrate your pride and have fun at the same time with car antenna flags!
These flags are fun to display on your vehicle all year round, but they are an especially good choice if you're planning on driving in a parade. They can be used to decorate cars, and with a few minor adjustments, they look especially good on scooters and motorcycles. They are also great for anniversaries, celebrations, and they can be a great way to decorate vehicles during a funeral procession.
Choose a high-quality car antenna flag and you have even more choices. With a double-sided design, you can choose to display multiple branches of the military, or you can display a single branch on one side and a regimented design on the other.
Bandanas and scarves make great gifts
Quality flag companies do a lot more than just offer traditional flag products. Here at The Flag Makers, we have access to the most innovative printing processes available in the industry, which means we can print on all kinds of products. Bandanas and scarves are especially popular!
Custom bandanas are very useful for those who are still serving in the military. Buy a box for an entire regiment or battalion while they're serving overseas and they'll have a more comfortable way to wear their helmets. They can also be added easily to care packages, providing a loved one overseas with a special surprise.
Back home, scarves make great gifts. They can be printed in a wide variety of designs, and they can even be personalized with the recipient's name. They are a great option for Christmas gifts and anniversaries among battalions, especially if each member of the group has their own nickname.
Create a family heirloom with a custom bannerette
Custom flags can be meaningful too, especially among family members of veterans and fallen soldiers. If you're looking for a way to commemorate a loved one's service, look no further than a custom bannerette.
They are specially designed to be hung on the wall, so they're great for indoors. They're perfect for offices, man caves, bars, and bedrooms. With trim, tassels, and vivid printing, a custom bannerette will quickly become a family heirloom.
Military flags are a great way to celebrate current and past service. It doesn't matter if you're in the marines or you want to honor an ancestor who served in the army, The Flag Makers has a flag that's perfect for every veteran and his or her family.