The Perfect Flag Ideas for Every Holiday
There are tons of ways to use custom flags. They are especially popular during the holidays, and for good reason. There are so many different flags to choose from, and there are endless ways for you to customize them. That makes decorative flags one of the best ways to decorate for the holiday season, no matter what season that may be!
All that choice does come with a downside. With so many options, you may not know what kind of flag to choose. In addition, if you aren't familiar with the wide range of flag products that are available, you may not know just how many options you have!
The Flag Makers is here to help. We carry an extensive range of flag products, and we have customized flags in nearly any way you can imagine. Here are our recommendations for holiday flags for a few of the most popular holidays throughout the year.
Easter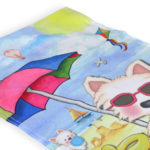 Easter is a religious holiday, but you don't have to be religious to enjoy it. This holiday also marks the beginning of spring, which is something everyone is ready to celebrate!
During this time of year, many people start spending more time out in the yard and in the garden. That's what makes garden flags such a great way to celebrate.
They are relatively small, so they don't take up a lot of space in your yard or while they are being stored. They are easy to display because they feature a metal stake that can be placed in the ground. Display a flag in the front yard next to the door, line the driveway with garden flags, or enhance your flowers as they're growing in with a few flags.
Personalized garden flags are an easy way to decorate, so they are great for both major and minor holidays. Change out the flag for Valentine's Day, Halloween, and Christmas!
4th of July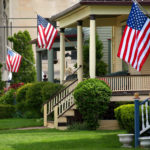 No 4th of July celebration is complete without the American flag. That usually means stringing a traditional rectangular flag up on a flag pole, but that isn't your only option.
Decorate the yard with hand flags! They can easily be staked in the ground or secured to fence posts for a striking Independence Day look. Extras can be passed out to friends and family at a barbeque and waved around when the fireworks are lighting up the sky.
Planning a get together with friends and family? Grilling out is the norm on the 4th of July, so why not decorate the area with custom flag bunting? You can order colorful bunting, or bunting designed to mimic the look of the Stars and Stripes. Hang bunting from the rafters under a rented shelter at the park or hang them from the fence in your backyard.
Thanksgiving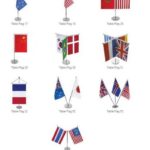 Yard flags can be used to celebrate Thanksgiving, but because the weather is often chilly, it's a good idea to focus your flag decorating indoors instead.
Table flags are a fun way to decorate the table for Thanksgiving. Use them as placeholders for guests so they know where to sit. You can also use them to decorate the middle of the table. They look striking when combined with other decorative elements, like gourds and flowers. When dinner is over, everyone can take a flag home as a memento!
Christmas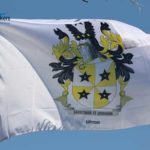 Christmas is all about spending time with family. It's also the season of giving. Why not combine those two things into one beautiful flag?
Family crest flags make great gifts. Mom and dad, as well as grandma and grandpa, are sure to appreciate a custom flag of their family crest as a gift during the holiday season. It also makes a great gift for newlyweds.
Professional flag makers also offer other kinds of products that you might not expect, but they make great gifts when they are personalized. Consider custom printed scarves or bandanas for the family, as well as cape flags for the kids.
There are many ways to celebrate and decorate for the holidays. By all means, pull out the Christmas tree and fly your American flag proudly when those times of year roll around but don't just decorate the way everyone expects. Have a little fun with every holiday, all year round by finding ways to enhance your celebrations with decorative flags!