The Benefits of Feather Flags
There was a time when you only had a few choices if you wanted to advertise your business with flags. That's definitely not the case today. You have more choices than ever before!
So many choices mean there are many different ways to display your message, but it also means that some ways are better than others.
Of course, when different flag products are combined, you can make the biggest impact on potential customers and their buying habits, but what if you're just getting started, and you don't have the budget for more than one kind of custom flag?
If you're looking for the flag product with the biggest advertising impact, look no further than a feather flag.
Indoor and outdoor use
Feather flags look striking outdoors, and there's no doubt that's the most common way they are used. These flags are specially constructed to flap in the breeze, attracting the attention of everyone who walks or drives by.
However, don't make the mistake of thinking these kinds of flags are only effective when used outdoors. They can be an effective way to market indoors too!
Feather flags are a great way to advertise in a mall, and they are a great way to decorate showroom floors, but they are an especially effective way to advertise at a trade show. They can be placed at the entrance of a booth to encourage people to come inside for a closer look, but they can also be used to decorate the inside of the booth. They look striking next to display tables, and they can help identify a smaller area within a larger booth.
Eye-catching, repeated exposure
There are many different ways to display information about your business. Some of those ways will get more attention than others. Feather flags are one way you can get a lot of attention for your business because they are so eye-catching.
Not only do they gently blow in the breeze, inviting attention from people who catch the flag in the corner of their eyes, but they can also be designed with two sides. No matter which way people are coming or going, they can see your message loud and clear.
That's not all! These flags can also provide you with repeated exposure, which is an important marketing strategy. If people driving by your business see the same flag flapping in the wind every single day, they are more likely to remember your business when they're ready to seek out the products and services you offer.
Endless customization options
There are certain things people expect from certain flags. For example, people expect a rectangular flag to display a predictable national or state design. With a feather flag, the sky is the limit!
Feather flags can feature your company logo, they can display your company name, and they are an effective way to advertise a sale. You can display special products and services, and they are even a great way to celebrate the holiday season when you order specialized holiday designs.
If you're looking for an especially unique display option, consider creating different designs on each side of your flag!
Portable and easy to assemble
Not all flags are created equal when it's time to transport them. The larger the flag, the more unruly it can get to take it from point A to point B. That's not the case with feather flags.
The flag can easily be taken off the pole and folded, while the pole itself can easily be broken down and transported in a bag. They are designed with ease of use, which means it takes less than a minute, and it only takes one person to set up the flag.
Affordable
Compared to other advertising methods, especially outdoor advertisements, feather flags are affordable. You can get a feather flag for a lot less than the cost of a billboard, car wrap, or bus sign.
They are even more affordable because once you have the hardware, you can purchase replacement flags without the need to purchase the entire setup every time you want to buy a flag. Simply slip your new flag on an existing pole when you're ready for a change.
Interested in learning more about all of your flag options? The Flag Makers can tell you more about the differences between a feather flag, banner flag, and other flag products.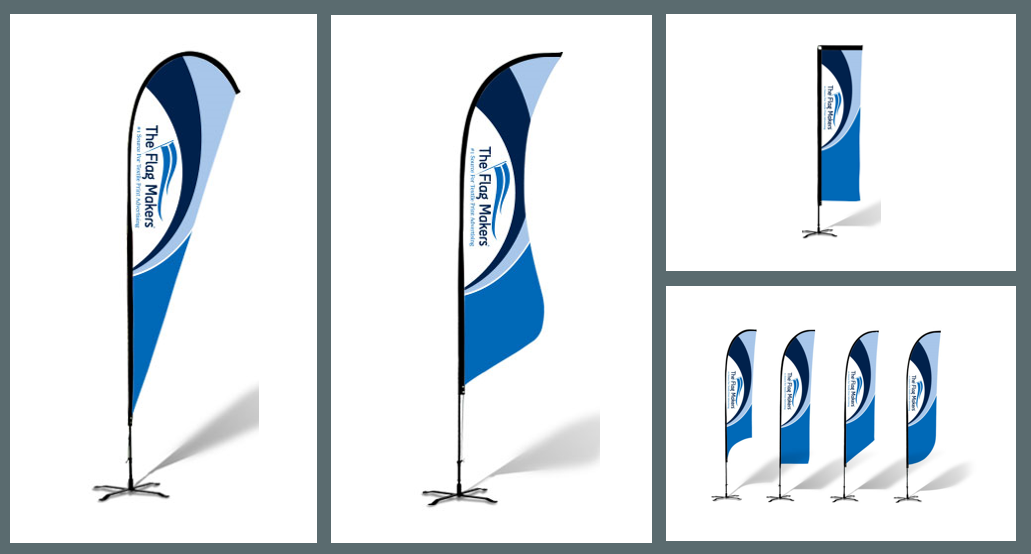 Looking for a quicker way to design your own feather flag? Use our online flag designer!