Benefits of Custom Printed Scarves for Sporting Events

If you want to advertise, you probably think of signage and custom flags. Permanent signs are a must for any physical business location, and flags are a great way to alert customers to a sale but don't think that your advertising options stop there.
Uncommon items are more memorable, whether you want to advertise a business or you simply want to celebrate your favorite team with your friends and family. Hats and T-shirts simply won't get the job done. Instead, consider a custom scarf!
It's true that scarfs aren't always the perfect solution. After all, they aren't very effective in the middle of the summer, and they aren't very useful indoors. However, they can be very effective when used in other instances. A scarf is especially welcome at an outdoor sporting event.
Perfect for football games and soccer games
Have a big football game coming up? Or maybe you want to celebrate the start of soccer season? Scarves are a great way to do both!
Scarves are a fantastic way to stay warm and promote your favorite team at the same time. They can also help you support the team while they're on the field. Whether at a football face-off or a soccer match, many a spectator has been known to hold scarves with team names and colors above their head when it's time to score a goal.
They can be an especially effective advertising strategy. Decorate the scarves with team mascots, names, and colors, but reserve a spot to promote your company. When you pass them out to those attending the game, each one will act as a walking billboard for your business.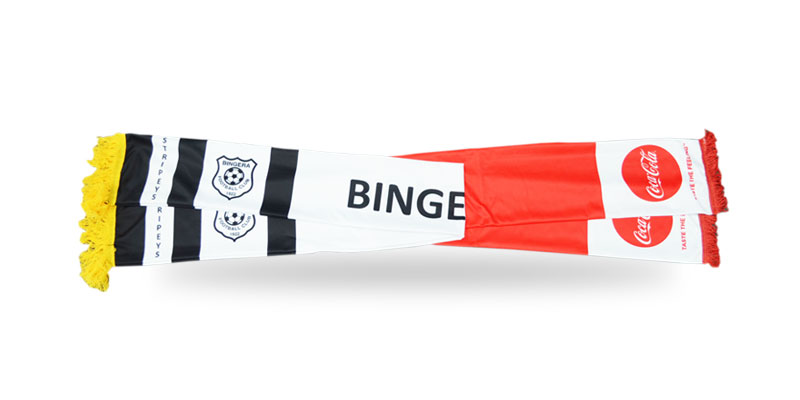 Stay warm at a tailgate party
Scarves can help you stay warm throughout the sporting event, but they can also help keep spectators warm before and after the match is over. That means scarves are the perfect tailgating accessory!
Businesses can pass out scarves to tailgaters before the game, but this option is more popular with those doing the tailgating. Hosts can purchase scarves that they pass out to everyone who comes for a bite to eat and something to drink.
Did you buy tickets for company employees to attend the big game? Hand out custom scarves to every member of your team so everyone can remember the game long after it is over.
Fundraising for schools
Scarves are a great way to advertise, and they can simply be a fun way for fans to support their favorite team, but that's not all they are good for. They can also make a great way for colleges and high schools to do some fundraising.
School booster clubs are always looking for ways to make more money so they can support student-athletes. T-shirts, hats, and keychains are a great start, but if you try something a little different, like custom scarves, you won't be disappointed with how they perform.
Scarves are a popular item among high school and college kids because they are different than the rest of the items being sold before and during the game. When designed and constructed well, students and parents alike will want to wear their scarves to every football game and a soccer game.
Scarves can be used again and again
One of the best things about scarves that are printed for a sporting event is the fact that they can be worn long after the sporting event is over.
A scarf that is printed with the colors and the name of your favorite team is appropriate to wear all winter long, and unlike other popular items, they don't wear out quickly. T-shirts, especially those made in bulk, can easily be stained and will need to be thrown away fairly quickly. Scarves, on the other hand, can be worn year after year, season after season.
The next time you're looking for a way to do a little advertising or fundraising at the big game, forget the boring T-shirts and keychains! Instead, turn to The Flag Makers and do something a little different. Not only do we have a wide variety of custom flags, but we offer amazing ways for you to create custom scarves too!